10 Things Your Piano Teacher Wants You to Know
Posted on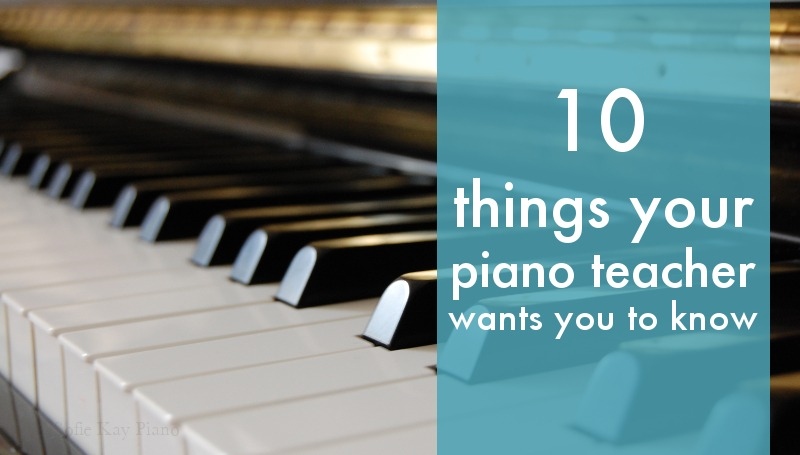 1. We look forward to your lesson every single week
YES. Really! Even when you are having a bad day, we can't wait to get stuck into your pieces - music itself is like a contagious joy and we can't wait to see your eyes light up at the beautiful sounds you're making.
2. We've been there
We remember going through all the frustrations you face in your lessons & practice time. When we say that you will be able to do it with patience and practice, trust us. Pinky promise, we are telling the truth.
3. We are on your side
There is never a reason to apologise for making a mistake or taking a long time to learn a new technique. We are here to help you and your music grow and develop - so we need to work with you to make it happen.
4. During performances, we make mistakes too
We are just experts at hiding them ;) (Nuff said.)
5. We value determination over natural talent
Yes, for real. You see, natural talent will only get someone so far. But determination, courage and stamina are qualities that will take you everywhere you want to go in life.
6. We love it when you practice
Did I need to include this one? No? Well hear me out anyway. We love it when you practice not only because it helps us move forward faster, but because it means you had a particularly inspired week and we're excited to hear about your stories.
7. When you don't practice, we don't mind as much as you think we will
Totally. This is your life, and you are the boss of your time!
8. We teach students of all ages
Unlike school teachers, we teach 4 year olds up to as far as 70 year olds (and everything in between!), so we may not always be able to keep up with what Zalfie did yesterday. We might also accidentally patronise you when we are still in 4 year old mode from our previous lesson, with a "well DONE!" instead of a "yeah that's cool".
9. We know how to get the best from you
When we push you further than you would choose to go, it is to make you realise your potential, not your shortcomings. We help to bring out the best version of you, because we know you can fly.
10. We love nothing more than to encourage you to be yourself
When you wonder whether how fast you learn, how you prefer to sit, how nervous you get before performances, how much you love boogie woogie, is okay? Yes. It is. It all is.